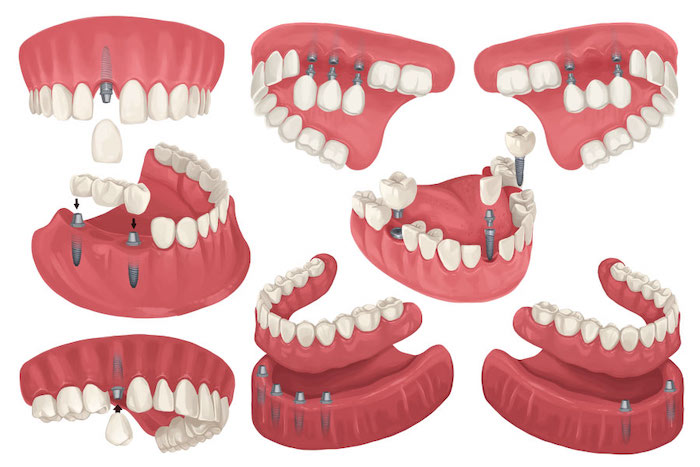 Reasons to Consider Dental Implants
September 23, 2022 11:56 pm
---
When you're missing teeth, normal activities like eating and speaking can become difficult. Tooth loss also increases your risk for more lost teeth and even the loss of jawbone density! Luckily, there are great tooth replacements like dental implants. Here are four reasons to consider dental implants:
Preserve your jawbone density

You need your teeth to eat and speak with confidence and ease. The roots of natural teeth also stimulate appropriate growth of your jawbone, which keeps the bone strong and healthy. Tooth loss prevents stimulation in that area and can lead to bone shrinkage and changes in your facial structure. When you get dental implants, a biocompatible post placed in your jawbone replaces the missing tooth root. This allows for stimulation of the jawbone to preserve its density.

Versatile

We can use implants to replace one missing tooth, a few teeth, or an entire arch. An implant can stabilize various configurations of restorations, such as one artificial tooth, a bridge, or a denture.

Cared for like your natural teeth

While the implant and artificial tooth replacement can't decay like a natural tooth, you still need to keep your gum tissue and jaw healthy. Continue brushing, flossing, and visiting the dentist. Use a soft-bristled toothbrush twice a day and floss once a day. If you smoke or use tobacco, it's in the best interest of your oral health to quit as soon as possible.

Can last a lifetime

Dental implants have a very high success rate (90-95%). When successful, implants can last the rest of a person's life! Because of their durability and similarities to real teeth, implants are considered the only permanent tooth replacement.
Dental implants in Jonesboro, AR
Tooth loss affects your everyday life, your oral health, and your confidence. Dr. Dickson and our team are pleased to offer bone graft and dental implant services to restore your smile, as well as preventive treatments, teeth whitening, veneers, wisdom teeth removal, and more. If you have any questions about our comprehensive dental services or want to schedule a consultation for dental implants, please contact Dickson Family Dental Care today!
Dental implant image from Authority Dental under CC 2.0
Categorised in: Oral Surgery, Restorative Dental Care