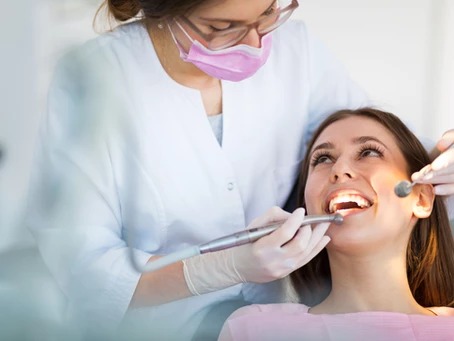 Family Dentists Help the Entire Family Achieve Bright Beautiful Smiles
July 19, 2021 5:51 pm
---
It is advised that you visit a dentist for a checkup two times a year at least. However, most people avoid the dentist like the plague until they can't avoid an extreme toothache or dental emergency. In fact, one in five adults in America hasn't seen a dentist lately.
Whether you are dealing with fear, financial issues, a lack of time, or you believe you don't need dental care, the fact remains that taking care of your teeth is important for your health. It's important for the health of your entire family. That's why choosing a family dentist is one of the smartest things you could do. Make going to the dentist a family habit for all generations.
Get Quality Dental Care for the Entire Family
Whole family dental care is provided by caring dentists in your area. The focus is put on a range of oral healthcare services for young children to seniors and everyone in between. Dental care providers put a focus on your comfort keeping your dental health and experience as their top priorities. Visit a local dentist in Jonesboro, AR to get started.
Family Dentists Offer Comprehensive Dentistry
Whole family dentists have had extensive dental training giving them the opportunity to provide services for people of every age. The purpose of such extensive training is to meet your family's needs with quality care. Those treatments involve many different oral care services as listed below.
Cosmetic Dentistry
Emergency Dentistry
Dental Implants
Dental Crowns and Fillings
Partials and Dentures
Dental Extractions
Dental Exams and Cleanings
Teeth Whitening
Root Canals
Get Personal Care from a Family Dentist
A family dentist is more than just an average dental care provider. They take great joy in treating all generations of your family with family-oriented care. The values of both family and dental care are fully understood and reflected in how they treat you as well as your family.
Get Guidance Concerning Good Oral Choices from a Family Dentist
Today, people are consuming more junk food and soda every day. This has caused oral health to decline with dental problems increasing. Processed and sugary foods are bad for your health and your teeth and gums. Other issues include the following:
Smoking
Drinking
Brushing Teeth Too Hard
Drinking Too Much Coffee
Biting Fingernails
Clenching Jaws
Making regular visits to a family dentist's office is crucial when it comes to your family's oral health. You will have the opportunity to learn about the damage your habits are causing and how to get them treated. This goes a long way in treating what could become serious problems at the onset.
Is Your Family Cleaning Their Teeth Right?
Everyone in your family may regularly brush their teeth, but are they doing it right? Most people don't understand how to properly brush their teeth or brush them for the correct amount of time. This can cause plaque buildup as well as teeth and gum issues in the future.
A regular visit to the family dentist for teeth cleaning will fix the problem. An excess of plaque will be removed to keep your smile bright and healthy. Dental techs are more than happy to show kids and adults how to properly cleanse, brush, and floss their teeth for optimum oral health.
Schedule an Appointment for Treatment
A family dentist caters to the oral health of everyone in your family. When you call to schedule an appointment, find out if you can schedule more than one appointment near the same time on the same day for family members. Going to see the dentist as a family can help ease anxiety and encourages better oral healthcare.
Categorised in: Uncategorized